This page is just an explanation in detail on our shipping section of the Terms of Service in plain English to let you know what to expect should you have an issue that is shipping related (not TH3D related) with your order. If you do not want to risk an order please choose a shipping service that carries insurance, USPS First Class in the US is the only uninsured shipping method. Shipping issues in the US are low but can happen. Shipments going outside the US are more likely to have issues so we insure even the First Class International Packages with a 3rd party (ShipSurance) insurance provider automatically.
This outlines how we handle issues with stolen, lost, and/or damaged packages. Per our Terms of Service, we are NOT responsible for lost, stolen, or damaged packages. However, we will work with the carriers on your behalf to get issues with shipping resolved. Please understand that issues with shipping damage or loss are not something we have control over. If a customer becomes hostile due to shipping issues that are outside of our control we will not handle the claim for you and you will be on your own. Claims take a lot of time and we do them as a courtesy for our customers, please be patient as we get the claim processed.
If your package is stolen you need to file a police report for the stolen package. Insurance will not do anything for stolen packages. Mail theft is a felony in most places and must be reported to your local authorities.
If damage or loss occurs to the package we will ship out a replacement or issue a refund (buyers choice – if shipping is paid in the claim this will be refunded as well) once we receive approval of the claim. We will not ship out a replacement until the claim is completed. We do this because we need the buyer to work with us throughout the claim process and when we re-shipped before the claims were approved the buyer in over 90% of cases just stopped replying to the claim and the claim was then not approved. KEEP ALL ORIGINAL PACKAGING AND SHIPPING MATERIALS UNTIL THE CLAIM IS COMPLETED.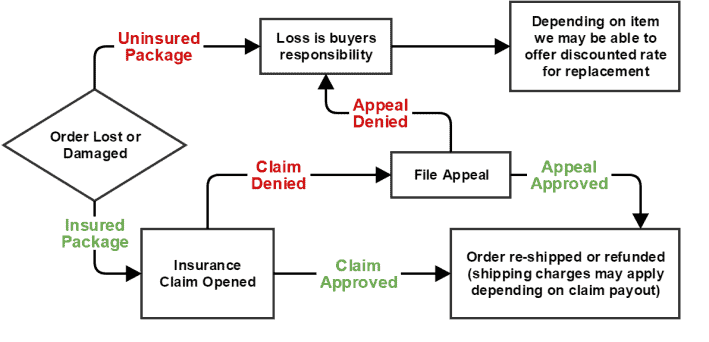 All Insurance coverage listed are provided by the carrier and/or insurance company, not TH3D.
USPS First Class packages have no guaranteed tracking updates. Meaning it will show acceptance and delivery at the very least. If you want multiple tracking updates select a tracked service like Priority Mail or one from another carrier (FedEx, DHL, UPS).
---
US Order Shipments
USPS First Class – This is the cheapest method and while it has a low rate of issues in the US there is NO INSURANCE on them. If something happens to a USPS First Class package there is nothing we can do. Once it leaves here we cannot file for any kind of compensation. We can add 3rd party insurance to this but it ends up being about the same or more than USPS Priority Mail. If you do not want to take the risk then choose USPS Priority Mail.
USPS Priority Mail/USPS Priority Express – Priority Mail carries up to $50 of insurance by default and Priority Express carries up to $100. These claims do NOT typically reimburse shipping.
FedEx Services – By default all FedEx shipments carry up to $100 insurance coverage. These claims do NOT typically reimburse shipping.
---
International Order Shipments
USPS First Class International – These are insured through a 3rd party and will cover the entire order value. Part of this insurance is added to the shipping charge you pay (we cover part of it as well). International packages have more issues than domestic (US) packages so we insure them with a 3rd party called ShipSurance. In the event that there is an issue with the order we will file with the 3rd party. There must be no tracking updates for 30-45 days before a claim can be opened. Once a claim is opened we will send you a link to fill out that states that the shipment was lost or damaged. They will pay us and then we can re-ship or refund the order.
USPS Priority Mail International/Priority Mail International Express – Priority Mail International and Priority Mail International Express carry up to $200 per shipment. These claims do NOT typically reimburse shipping.
FedEx International Services – By default all FedEx shipments carry insurance coverage equal to the declared value. All shipments are sent out with the actual declared value of our products. These claims do NOT typically reimburse shipping.