Known Issues & Fixes
Uneven Y Carriage – For some reason Artillery3D when they designed and built these machines did not think to have the wheel to carriage distance equally spaced. Our recommendation is to adjust the spacing so it is equal. This will provide the best motion and leveling adjustment for the printer. Here is how to check and modify the Y carriage wheels based on our testing. If you have an AL-4 check the bed wheel mounts. One of our customers sent us this picture and we noticed that there were extra spacers installed on the right set of wheels on the machine. These should be removed to make the bed even across the platform. This picture is before removing the extra brass washers from the non-eccentric side.
Some machines may only have the brass washers on the non-eccentric side and none on the eccentric side. If yours is like this then move the brass washers from the non-eccentric side (the one with just the aluminum spacer) to the side with the eccentric nuts. This appears to vary based on what batch the machines were from. The way to know what you have is to look under the bed and see how yours is setup.
If you don't have the washers/shims we found these 0.5mm thick ones that will not interfere with the bearings. You can use 2x of these to space the wheel distance out. 5mm x 8mm x 0.5mm Washers. If you have 5mm X 8mm X 1mm washers that are brass, steel, or aluminum these would work as well but we could not locate any online with those specs which is why we have the 0.5mm thick ones linked.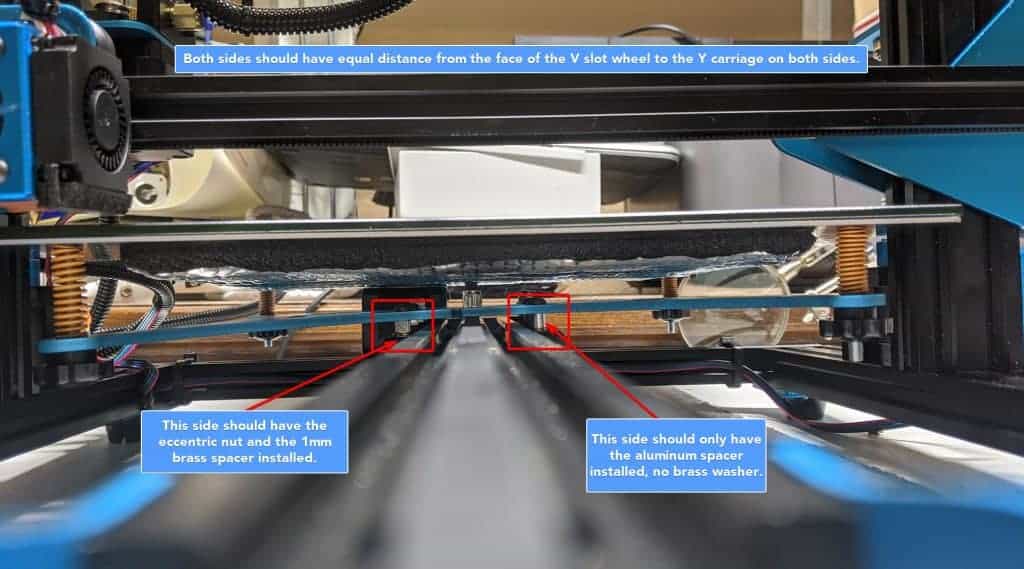 On the side with eccentrics there should be the eccentric and one brass washer.
The other side without eccentric nuts should just be the aluminum spacer.
The end result is that the distance of the wheel to the Y carriage should be the same on both sides.
---
We have discontinued the Artillery AL-4 and this page is an archive of the product page for customer reference
---
Printer Specifications
Build Area: 300x300x300
Voltage: 24V 500W PSU (Generic)
Extruder: MK8 All Metal
Hotend: Creality Style Hotend (Takes MK8 Nozzles) comes with 0.4mm Brass, X carriage is 100% identical to CR-10/Ender 3 so all CR-10 mounts work with this machine
Heated Bed: 250 watts 24V with "ultrabase" style surface
LCD: 12864 LCD with Full Size SD Slot
Mainboard: MKS Gen L with external 25A Mosfet for heated bed
Firmware: TH3D Unified Firmware with Thermal Runaway Protection
Stepper Drivers: 4X 4988 Drivers (Can be upgraded to TMC2208 or other Step Stick drivers)

Mounting holes are compatible with the SKR V1.3 and MKS SGen L if you want to later upgrade to 32 bit

Misc items included: SD card, Allen Wrenches, and Black PLA Roll
Free Upgrade: Includes parts we had made to add on 2nd Z motor and leadscrew with linking belt and pulleys

Please note there is no documentation included for the Dual Z kit as it was originally for in house use. We are just including it free of charge for those that want to use it. Printer is Single Z driven stock.

Compatible upgrades: EZABL, EZOut Filament Sensor Kit (MKS Version), Tough Extruder, TMC 2208/2209 Stepper Drivers
Assembly Guide from the Manufacturer here: DOWNLOAD
Warranty/Support
THIS IS A CLEARANCE ITEM/OVERSTOCK, all sales are final

Guaranteed not DOA, 30 days replacement/partial refund if parts are bad

Each machine will be opened and physical inspection performed to ensure everything is in the package and in-tact before shipping

Stepper Drivers checked
Wiring checked
LCD Tested and Checked
PSU Connections Checked
Firmware Updated to the TH3D Unified Firmware with Thermal Protection
All Physical parts inspected for damage or defects.

Firmware will be updated with the TH3D Unified Firmware

There is NO documentation included for the Dual Z kit parts included so it is very much DIY. Only buy this machine if you want to use it stock or you enjoy a small project.
Things to Check/Tune/Modify

Bed Wheel Spacers/Eccentric Lengths: Artillery has odd spacing on the bed wheels with the spacers/eccentric nuts. If you are using springs this is no issue but if you put solid bed mounts on the machine you may want to space our the eccentric nut side by using 1mm thick M5 brass washers between the wheel and eccentric nut. When using springs for leveling it is not an issue or even noticed since the springs are being adjusted, but when changing to solid mounts you will see a slight tilt. This is how they designed and shipped the printers. Typically the side with the eccentric nuts will be about 1mm shorter spacing than the side with just the spacers.
Hotend PTFE Insertion: This is not an AL-4 Specific thing but something that affects most printers with these style hotends (like the Creality machines) it is recommended to check that the PTFE tube is fully seated into the hotend. Heat the nozzle to 240C and then unscrew the hotend side PTFE fitting 1/4 turn. Press the PTFE tube all the way into the hotend and then tighten the fitting down again.
General Assembly: Check that all bolts are tightened down on the frame, gantry, bed, and other motion components. We do NOT check the bolts for tightness or belts when checking the boxes It is recommended to check the belt tension as well on the X and Y axis. These are adjustable by loosening up the bolts holding the brackets for the belts.

No technical support included
Pictures from the manufacturer: